"The Vampire Diaries" only has a few clueless humans left in Mystic Falls and Elena's legal guardian, Aunt Jenna, is completely in the dark. Sara Canning~Jenna Sommers chatted to
TV Guide
about her character's mounting distrust in Alaric. She spoils about an upcoming 'rock your world' moment that may bring Jenna into the supernatural shadows.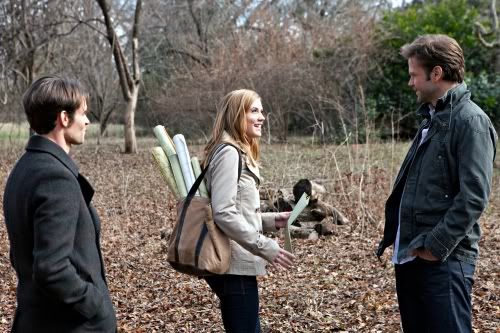 "The confession is linked to what is more pressing on Jenna ... she's obviously not asking about his vampire-fighting extracurricular activities," says the actress.

"She thinks she's dead. When John is saying, 'Did they find her body?' it bothers her, but a large part of her is like, this is what he does — he comes back to town and stirs up stuff just to stir it up," Canning says. "I think it's a definite discomfort, but I don't know that she's imagined what it would be like to meet Isobel or be told she's alive."

"In the next few episodes we're going to see something happen that is really going to rock her world and have her question if she is in such a steady and stable spot as she thought she was."