The wait is finally over and a brand new episode of "The Vampire Diaries" airs this Thursday! To get us ready for "Sacrifice" the
Los Angeles Times Show Tracker
snagged a juicy spoiler filled interview with Executive Producer Julie Plec. She divulged six teasers for the next two episodes, that will take us into the much dreaded holiday hiatus. Enjoy fellow TVD fans, I know I did ;)!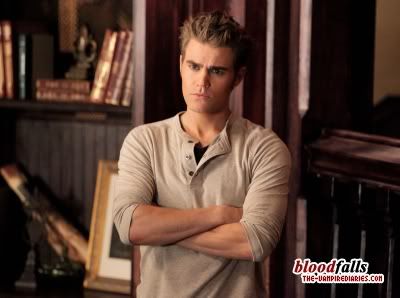 The blood diet: Last time Stefan (Paul Wesley) drank human blood, we saw a not-so-pretty side of him. This time around though, he's going for moderation and "is approaching this very strategically and very methodically." But it's something more powerful than planning that will keep Stefan's blood thirst at bay: Love.

"One very telling thing that he said two episodes ago was that he has something else to live for," says Plec. "The difference between last year and this year is last year he didn't believe he deserved Elena's love. ... Right now we're at a place where Stefan has come to terms with some of his demons and is feeling very strong in his love for Elena and is confident that she loves him in spite of their current relationship problems."

She adds: "For a while, we're going to see him very functionally manage this consumption because it's actually a really smart plan."
Death is not the end: Although she wouldn't divulge details as to the who or when, Plec did answer in the affirmative when asked if we might see a killed-off character again.
Read the rest of this spoilery article here.