The always lovely Candice Accola of
The Vampire Diaries
dished to
Wetpaint
about meeting Klaus~Joseph Morgan. When asked point blank about filming with baddest of the bad, Klaus, Accola slipped with a fiendish giggle and spoiled,
"I've seen Joseph Morgan running around the set." Then went on to say, I've been on set and seen Joseph on set as well."
Can we take this to mean Caroline will definitely be part of the big showdown for the season 2 finale? I think so :).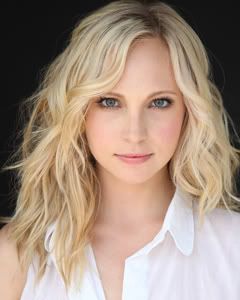 Candice also touched on weather Caroline will be able to forgive Tyler's indiscretions and borderline treachery when he returns to Mystic Falls.
"If and when Tyler returns to Mystic Falls, it depends on his intentions — why he's going back. And if that causes Caroline and Tyler's paths to cross, I think there definitely needs to be conversation had. But Caroline has grown into the type of character that would be able to forgive him but probably not immediately. I think it all depends on how he approaches the situation. The ball is very much in Tyler's court at this point."