TV Fanatic
had an exclusive chat with Executive Producer Julie Plec about what's coming in the second half of season 2. "The Vampire Diaries" will delve into a darker place for the majority of our fabulous cast. Julie spoils about Werewolves, Manwitches, shirtless boys and much more.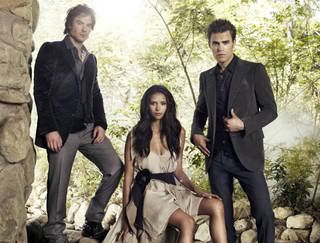 Overall, what can we expect when the show returns?
We're going to come to the end of what we're calling our werewolf chapter, which will really take that story to a really dark place and really change a lot of characters lives, not necessarily in a good way.

We are going to dig deeper into the secrets of our new witches and what Bonnie's role is going to be in their story, and of course it's all about the fear of the impending Klaus, and who's going to be fighting on who's side, who's bond is with who, who's going to betray whom, and is this curse going to be lifted at the hands of a sacrifice that would kill Elena. We're full steam ahead.

Is there a clause in Ian Somerhalder's contract about appearing shirtless a certain number of times per month?
(Laughs.) No. It's funny, we had a little bit of a drought of our shirtless boys this season, because we only put them shirtless when it feels right for the story. But I looked at Kevin and I was like, "everybody's had too many clothes on for the last 6 or 7 episodes. This is wrong. So we'll be seeing more bare-chested boys as we go into the New Year. All totally organic to the story, as always, of course (laughs).