Thanks to
EW
"Vampire Diaries" fans have a conformation about this Thursday's steamy sex scene between Stefan and Katherine. Not only is it intense, but Nina Dobrev has the bruises to show for her hard work playing two characters on the CW's hit.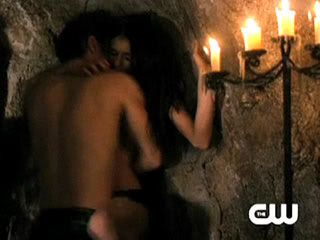 Stefan (Paul Wesley), now trapped in the tomb with Katherine (Nina Dobrev), giving in to her. If the teaser is any indication (watch it below), it could be the hottest captive sex scene since a certain cage scene on Lost. "First, Jeremy getting trapped in the tomb was like, Katherine wins! When Stefan came in, she's like, 'Wow, I couldn't have planned this better if I tried. The one person I want to be stuck with, here he is, and now he's got nowhere to go. I will seduce him, I will tease him, I will anger him.' The line between love and hate truly is very, very thin," Dobrev says. "So she has a chance to egg him on, and he can't do anything about it. He has no choice but to listen, and yeah, it is a very kind of sexy, manipulative scene, and he gives in. It's pretty crazy."

Read the full interview here.