Sarah Canning~Aunt Jenna Sommers from "The Vampire Diaries" dished to
Zap2it
recently Canning spoiled a little about tonight's episode, as well as her vampire hunting History professor boyfriend, Alaric. She also hints at whether or not her character will find out about the supernatural happenings of Mystic Falls.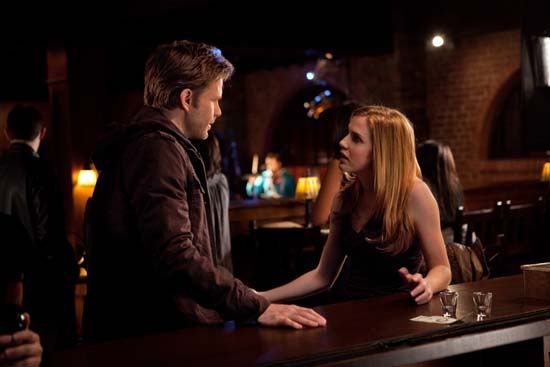 The grown ups are getting together for a dinner party tonight. I'm sure that'll go smoothly.

It's fun to have all the adults in one room. The cool thing about tonight's episode, for me, is that we get to see Jenna hanging out with Elijah a lot. We get to see that interaction, and knowing that there's been a lot of distrust with Alaric, we'll kind of watch them meander around in that situation. There's a hidden motive at the dinner party, but of course Jenna's in her clueless reality, so the dinner party is going to mean many different things to everybody that is there. Everyone is at that party for a different reason.

Is Alaric jealous of Jenna's interaction with Elijah in terms of their romantic relationship, or is he just solely concerned for Jenna's well-being, since Elijah is obviously bad news?

You can read Alaric's feelings either way. Alaric's not really aware of the thoughts that are going on in Jenna's head. What John says about Alaric not being trustworthy immediately calls up Jenna's past and guys who have lied to her before. She's right back there again. As humans, we have defense mechanisms, and we'll see her treat him differently because she doesn't know what to believe. He could definitely read her helping Elijah out with his "historical writing project" as something more.


Matt and Jenna are the only two regular characters left standing who still don't know that they're literally surrounded by monsters. Will they clue in by the end of this season?

I think so. That is just a feeling, but I think at least one of them. I'm not sure if both of them will, but one. They're the two characters left grounded in reality, and one of the trademarks of Kevin Williamson is that he really puts a lot into what its like to be growing up in a small town and how relationships can build and how they fall apart. That's a major part of the show -- it's not just about ancient vampires and who needs which stone more. I think it remains important that we have some aspect of reality maintained in the show. Most of the townsfolk are choosing sides and are completely involved, it's easy to lose touch with reality.
Read the full interview here.