The long holiday hiatus is almost over and the spoilery tidbits are starting to trickle in for the CW's hit show, "The Vampire Diaries".
Ausiello
has some scoop to share about an upcoming kiss, sacrifice and the newest love triangle of Mystic Falls.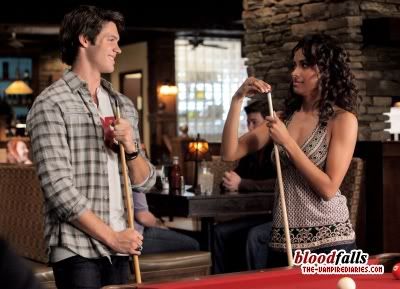 Question: What's coming up necks on Vampire Diaries? —Krista
Ausiello: Necks. Funny. The long-awaited Bonnie-Jeremy smooch will finally be sealed in February/March. Right around the same time, Elena decides that the only way to save her family and friends is to sacrifice herself to Klaus (role still being cast).
Question: Can you tell us something about how Tyler and Caroline's relationship is going to develop on The Vampire Diaries? —Nuria
Ausiello: It's going to develop into a (wait for it… ) triangle. And the third wheel's name?! (Drumroll… ) Matt!