I have even more spoilery goodness to share about "The Vampire Diaries". According to
Zap2it
, the demons that have surfaced for Damon are only the beginning of his journey and Elena will play a huge part in how that journey plays out. EP Julie Plec also hints at what the impact of Stefan's darker side will have on his relationship with Elena.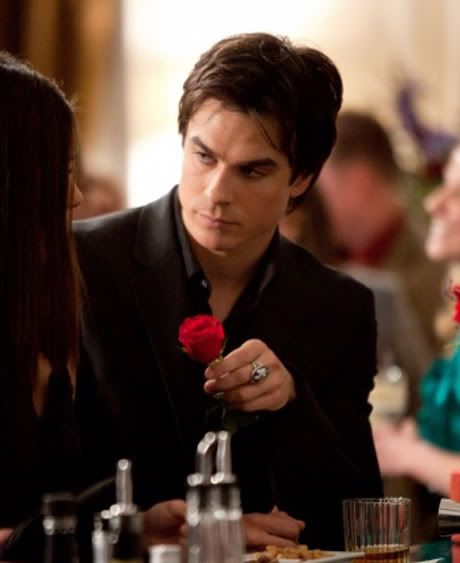 The struggle, now, is that Damon has to watch while Elena's (Nina Dobrev) affections are directed toward Stefan (Paul Wesley). "He doesn't have Elena, and he doesn't want to be a hero. When things happen that make him look in the mirror and not recognize himself, he's going to go back in search of that person that he's been for the last 145 years. Unfortunately, that means reverting to some old habits that kind of defined him for a very long time."

When "The Vampire Diaries" writers' room first broke the story for the episode in which Rose dies, the hour had a very different ending. "We had written that entire script, and we had ended Damon's journey on that hug with Elena. We were done with the script and we were moving forward, and somebody said, have we taken Damon to too emotional of a place? He's sad, and he's upset, and he's struggling with dealing with his feelings," Plec says.

The writers realized that Damon's response to the overwhelming emotion of losing Rose and having a breakthrough moment with Elena would send him over the edge. "The idea came up that maybe he should just completely regress as a knee-jerk response to having too many emotions," Plec says." That changed everything."

And thus, Damon wandered drunkenly into the road, where he confessed his desire to be human again to a stranger -- and then killed her, just because he could. It's something Damon hasn't done in all season.

"We just sort of added it in," Plec says. "Kevin [Williamson] wrote his speech at the end, which was just brilliance in action. It changed everything. It really reinvigorated all of us for that character because Damon is all about how deliciously bad he can be and how epically good he can be, and how the two are always at odds with each other."

"It's no secret that having to play emotional Damon makes Ian really uncomfortable as a person, as an actor," Plec says. "It's hard, because you have to tap into your own emotional stuff, and now we keep challenging him. We're going to keep making him dig deeper and deeper."

Right now, Elena is blissfully ignorant of Damon's new taste for human blood straight from the source, but when she sees Damon with Andie (Dawn Olivieri) she's not going to let her opinion go unspoken.

"Damon's continued association with Andie will start to make Elena look at him and wonder. It's obvious that Damon is 'Carolining' Andie," Plec says. "So once Elena kind of figures that out and has time to have a heart to heart with Damon, it's certainly something that she's going to discuss with him. He's kind of exploiting this woman and our girl Elena is not going to be so down with that."
Read the full interview here.