Happy TVD Thursday! "The Vampire Diaries" has at least one more flashback episode headed our way in "The Dinner Party". Ian Somerhalder spoils to
AOL
about what we'll see in Flashback Falls this time :).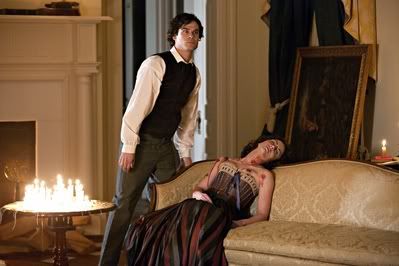 I also hear that Damon's throwing a dinner party very soon. What can you tease about that?

Oh, that was so much fun. Being on set with Dave Anders, who's my boy; Matt Davis, my boy; Sara Canning, who I just adore, and Dawn, who I just adore and Marcos Siega directing … and of course Daniel Gillies, who's my boy; it was awesome. I had these five actors sitting at this table who I just adore and love being around and working with and then, we had Marcos Siega directing. It was a lot of fun, just a lot of wit being thrown around. Pretty funny, loved it, it was a blast!

We also have a flashback coming up. Can you give us any hints as to what we'll see?

The flashback is actually really interesting. We just had a table reading, I just talked to Paul [Wesley], actually; he said he saw some of the stuff from the flashback and he said it looked great.

What you kind of get a glimpse of is the dynamic of Stefan and Damon back then … You truly get a different sense, you see more of the truth. I'll let you guys see first, because it actually plays against a great deal of what we thought actually happened, for myself included. You see the influence that Stefan had over Damon, you kind of get a great glimpse of why Damon might resent Stefan and really want to give him a lot of hell.
Read the full interview here.