We have spoilery tidbits to pass along to "The Vampire Diaries" fandom on the eve before an all new episode, "Crying Wolf". Damon is trying his best to keep it together and their will be plenty of Delena moments, while everyone evolves :).
Wendy: As hot as angry Damon is on The Vampire Diaries, I have a soft spot for good Damon. Tell me he chills out in upcoming episodes.

Well, he's going to try. Ian Somerhalder promises us that much. "He's trying his damndest to keep it together," he tells us. At least Damon knows he's miserable. So, that's step one, right?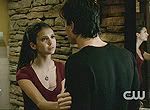 Is there hope for Damon and Elena on Vampire Diaries? — Carla
NATALIE: "In the lifetime of the series, every fan who 'ships either side of the triangle will have moments of hope," executive producer Julie Plec says. Does that mean we should stop asking? Well... "Stefan, Elena and Damon are a series-long journey for us," she says. "There are big moments coming up all around for them, lots of evolution of friendships and relationships, and questions of who loves who." You heard it, Delena fans — moments!
Source:
EOnline
,
TV Guide
Photo Credit:
Vampire Diaries Web