TV Guide
has some spoilery goodness of the werewolf variety to share with the "The Vampire Diaries" family. Looks like the arrival of another new werewolf to Mystic Falls will bring even more destruction and mayhem down on our players and Tyler will find himself torn. Michaela McManus~Jules dishes and EP Julie Plec confirms :).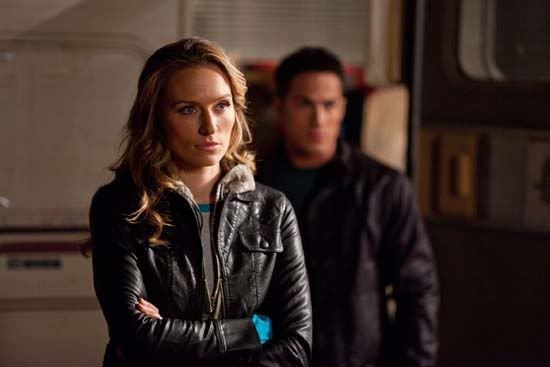 Tyler, on the other hand, is a bit hesitant to forge a friendship. "He, like the audience, is wondering who this chick is. He's skeptical and a little weary, but I think he trusts her because he was so close with [his uncle] Mason and he's discovering so much right now," the former One Tree Hill star says.

Of course, Damon has no intention of letting Jules hang around. McManus says the two will absolutely butt heads, while executive producer Julie Plec adds that the "vampire/werewolf conflict is about to go from simmer to a boil." "[Jules'] altercation with Damon is sticking with her and she's not too happy. Now that she's aware of Tyler's true identity, she's going to start filling his ear with some things," Plec says.

To add fuel to the fire, Mason's old friend, Brady (Stephen Arnell), will come into town and bring destruction, McManus says. "Along with the danger he brings, he also answers some questions for the audience as to where these people are coming from."

But Brady won't be the only one wreaking havoc. Plec says there will be another full moon before the season's end, during which "bad, bad things are going to happen."

Since McManus shared that she filmed a scene coming out of transformation, we can only imagine what or who she destroys in that time. "She discovers the damage that's been done overnight — which is something that [werewolves] go through," she says. "She's come to terms with being cursed and this is her life."

Read the full interview here.